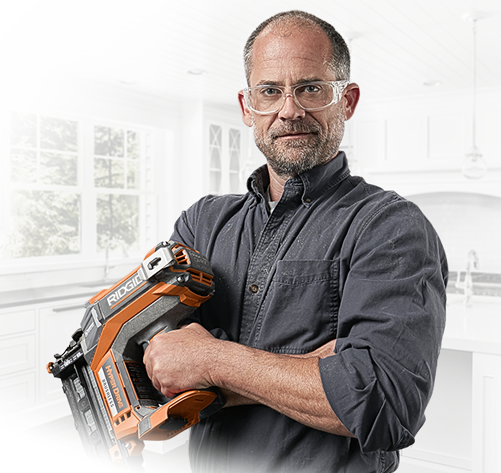 FAQS
Have a Question?
How does the RIDGID Lifetime Service Agreement Work?
All RIDGID Power Tool products come with an automatic 3-year limited manufacturer warranty. The Lifetime Service Agreement (LSA) is a promotional program (that applies to eligible product categories) upon registration completion. To take advantage of the LSA's benefits, simply register your eligible RIDGID power tool product and submit your proof of purchase for validation within 90 days of the date of purchase. No additional fees, no hassle.
How do I register?
You can register your Lifetime Service Agreement (LSA) eligible RIDGID tools two ways. Either go online to www.RIDGID.com/registration and follow the directions; or if you do not have access to the internet, you may mail your registration information to:
RIDGID® Service Dept.
Attn: LSA
PO Box 1427
Anderson, SC 29622
For mail-in registrations, please provide the following information: full name, address, phone number, model numbers and serial numbers for all serialized components from your purchase (including batteries and chargers), along with a copy of your receipt.
I've already thrown away my box. Am I still able to register for the Lifetime Service Agreement (LSA)?
Yes, due to recent upgrades, the UPC is no longer a requirement. However, the product's box contains important pieces of information so the LSA registration process may be slightly more difficult and/or the approval process may be delayed.
I registered online and entered my receipt number, why was there a problem cross referencing my online registration?
Our online system uses the receipt information you provide, specifically your receipt code, to search The Home Depot receipt database. If our online system sees your receipt in The Home Depot receipt database, it will then search for the item you are registering. Once it verifies the item and the receipt, you would receive a confirmation email to let you know your item is under the Lifetime Service Agreement (LSA). However, if it can't verify the item and the receipt, you would receive an email that states "Action Required" and be asked to complete your registration by mail. Because it is possible that our online system will not be able to verify your registration online, both the final page of your online registration and the "Registration Submitted" email you receive explain, "If your product and/or proof of purchase information provided cannot be confirmed, you will be asked to submit your registration information by mail in order to complete the LSA approval process."
While one possible stumbling block can be a simple typo when entering the information online, it is also possible it is an issue when The Home Depot receives/transmits their sales data, resulting in your accurate sales information not being in their database. Because we never want a customer to lose out on the LSA promotion because of a technical issue beyond the control of either you or us, our online system requests you complete your registration by mail when it cannot verify your purchase information electronically.
How long does verification take?
Verification for any product registered for the Lifetime Service Agreement online takes up to two weeks. If you choose to mail in your registration, the manual verification process can take up to 6 weeks from the date received in our offices.
How will I know if I've been approved for the Lifetime Service Agreement (LSA)?
Once your LSA is verified, the picture next to the product on your Ridgid.com account will change to show the LSA logo. If you have an email on file, you will also receive an email confirming the update.
Where is my package model number?
Your package model number is located on the outside of your box. It is usually on the front facing of the box in the bottom right hand corner under the Lifetime Service Agreement logo. Some boxes may differ.
Where is the product serial number?
Serial numbers are generally located on the data plate of serialized components (tools, batteries, and chargers). This number is usually highlighted in a white box and begins with 1-2 letters. If you still are unable to locate the serial number, please contact us via chat or by phone at 1‒866‒539‒1710 with your model number available for instructions specific to your product.
I registered online and entered my Home Depot Receipt number. Do I need to mail in anything?
In most cases, your registration will be completed entirely through our automated system. In the unlikely event that our system cannot validate your sales receipt with The Home Depot's sales information, we may request that you re-submit your registration by mail submit your receipt in order for us to process it manually.
After I get a replacement Tool, Battery or Charger, how do I maintain Lifetime Service Agreement (LSA) status on my equipment?
Any time a serialized piece of equipment is replaced, the new product will have a new serial code and will need to be re-registered in order to carry over the LSA coverage. Simply contact us via chat or give us a call at 1‒866‒539‒1710 to re-register your new product and maintain LSA status. Re-registration must occur within 90 days of replacement. Proof of replacement may be required.
Is my RIDGID product eligible for the Lifetime Service Agreement (LSA)?
Eligible categories for the Ridgid LSA include Ridgid brand cordless power tools, corded power tools, tile saws, bench and stationary power tools, and pneumatic products.
Unfortunately, certain product categories are not eligible for coverage under the LSA. These categories include, but are not limited to, any free or promotional serialized piece of equipment provided beyond the contents of the purchased tool kit, generators, pressure washers, accessory batteries, accessory chargers, plumbing equipment, extension cords, heated gear, storage, hand tools, and wet/dry vacs.
How do I get a replacement battery or charger under warranty or the Lifetime Service Agreement?
Gather your tool, battery(s), and charger, then call our Direct Ship line at 1‒877‒655‒5346, Monday – Friday, 9am – 6pm (EST). A RIDGID representative will assist with verifying eligibility for replacement over the phone. Once coverage and diagnostics are confirmed, a replacement item will be shipped directly to your home or office.
I received a replacement through the Direct Ship program. What do I do with my expired product?
You may recycle the product at your local Home Depot store or at a local recycling center. Your closest recycling center may be found by calling 1‒800‒822‒8837.
My power tool needs service. Where can I locate my closest Service Center?
You may locate your closest service center by clicking on the below link, entering your zip code and selecting the power tool category.